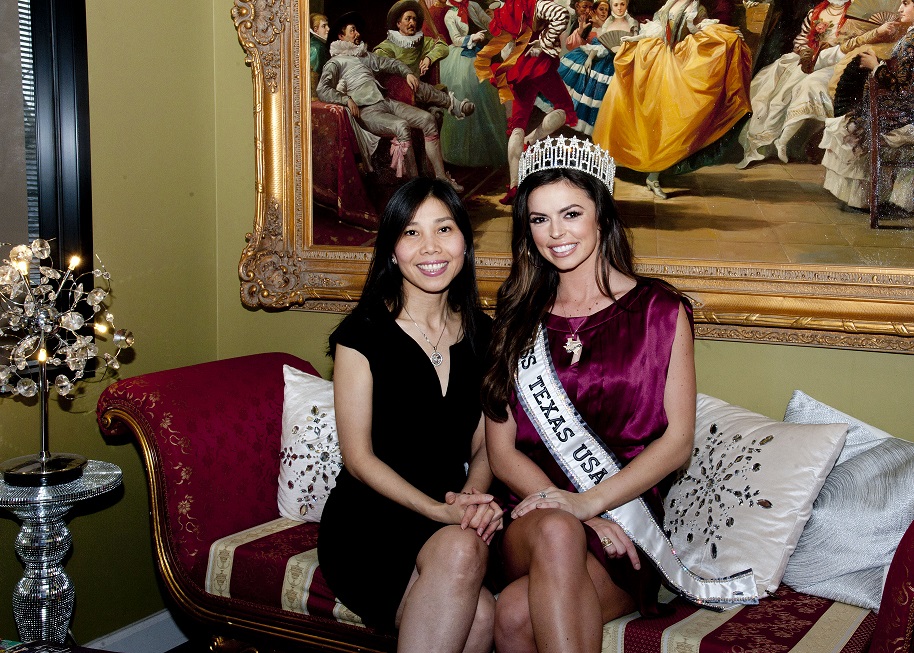 Ann Pham and Thinh Nguyen, the Founders
Ann Pham and Thinh Nguyen are well known entrepreneurs and business builders in the eyelash extensions industry in Texas.
Unlike other business builders, Ann works 3 days a week and serves her long-term clients. She interviews and hires each and every technician that works for Lashes by Ann. She also wants to make sure the technicans get the proper training and earn top income.
Thinh Nguyen, on the other hands who develops the second to none website, booking and text message app. All of these 3 are incorporated in one and Lashes by Ann has been the the first page of Google search since 2014. Everything we operate on is our in-house products.
Ann's and Thinh's number 1 goal is to provide once in the life time opportunity to the people who work with and for Lashes by Ann. Most of her partners make at the top 5% of the average annual wages in the U.S.
Lashes by Ann
If you are looking for the best eyelash extensions salon in Houston, Texas, you do not have to look further. Lashes by Ann was found by Ann Pham in 2013 and is the salon of choice.
Lashes by Ann has earned the reputation as the leader in the eyelash extension industry with 472 five star reviews on Yelp and 258 on Google as of June of 2021. As of June 2021, we have served over 201,000 appointments which are approximately 35,000 appointments a year, since November of 2013 and have 14,050 active registered customers.
In fact, Google reports daily. it has approximately 2,000 searches for Lashes by Ann. We have been on the first page of Google since day one due to impressive websites with remarkable features such as cost calculator, search for next openings and online booking.
We specialize in eyelash extension services and nothing else. That means we dedicate all of our talents and resources to your eyelash extension service. We commit our work to serve each appointment promptly. Our service is performed thoroughly and to the complete satisfaction of our clients.
We currently have 93% of our business with returning customers, and only 7% are new customers coming to our salons monthly.
We have designed, developed and own our website, which is located at www.lashesbyann.com. We also developed and own proprietary online booking software. In fact as of June 2021, we have approximately 16% of 6,000 appointments booked online on an annual basis.
Besides, we developed and own our text message software system that is automated for the convenience of our clients. We manage approximately 1,500,000 text messages a year.
All of our eyelash extension technicians are consistently rated very high and have worked hard to serve our clients.
We have had over 500,000 visitors to our website since July 2014.
We focus primarily on providing a 5-star eyelash extension service to all of our customers. We have completed 100% of the correction work to be done, and this has happened immediately at no cost to our customers.
Our philosophy is that we value the relationship with our clients as the most important factor in our business. We believe that if there is no relationship, there is no business.
Ann Pham
Founder, Lashes by Ann
Ann's "Dream" Team:
Ann, herself has served over 29,444 appointments.
Natalie has served over 13,262 appointments.
Megan has served over 13,280 appointments.
Gina has served over 9,845 appointmenets.
Emily has served over 7,065 appointments.
Michelle has served 13,674 appointments.
Evie has served 6,086 appointments.
Mila has has served 4,655 appointments.
Erin has served 1,803 appointments.
Kelly (trainee) served 11 appointments
Thinh Nguyen
Thinh Nguyen is Ann's husband. With a diversified background in engineering, finance, insurance, security alarm and cellular phones, he has dedicated his time to develop the scheduler and text message softwares owned by Scheduling Power, LLC. A well recognized landmark is over 125,000 appointments were booked and text communication was used to interact with customers.
Thinh's Customer Service "Dream" Team:
Thinh Nguyen leads our customer service team. Our team includes:
Thomas (Natalie's husband) with pharmacy background
Tim (Megan's husband) with accounting background
Tai (Gina's husband) with business background
Giang (Mila's husband) with business background
Duc (Evie's husband) with business background
Partnership and Franchise Opportunities
Lashes by Ann offers partnership and franchises opportunities throughout the United Sates.
Our Mission
Lashes by Ann's mission is to offer effortless appointment booking, rescheduling as well as cancellation. Our service is 100% guaranteed that it will remind you what "service" really is all about. Regardless of your service, whether you're here for lash removal or a full set of eyelashes, Lashes by Ann's staff will strive to exceed your expectation.
Our Commitment
Besides the quality of our work, Lashes by Ann is committed to provide second to none customer service with our extensive open hours, from 7 AM to 8 PM Monday through Sunday, except Wednesday.
Our goal
Lashes by Ann's goal is to exceed its customers' expectations at an affordable pricing.
Locations
We currently have 2 locations: Montrose/Midtown - 415 Westheimer Rd., Suite 208, Houston, TX 77006 and Galleria/Uptown - 5000 Westheimer Rd., Suite 154, Houston, TX 77056